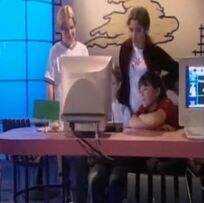 Café PC is a internet cafe featured in
'The Demon Headmaster Takes Over' 
and is where
SPLAT
meet Kate who is apparently 'a real wizz.'
After the Headmaster takes over using his green hand badges the gang keep in contact with other kids using chatrooms and meet Paul and Jenny who report odd behavior happening in the camp they are staying in.
The gang keep track of the green hand presence by marking any sightings on a gaint map and speak in a nonsence code over the net with the others on to avoid any suspicion.
Location in real life
Edit
Scenes featuring the cafe were filmed in Rickmansworth, which is close to the village of Sarratt, which is where 'The Demon Headmaster Strikes Again' was filmed around. The cafe scenes were probably filmed inside a empty shop shell. The bus shelter which SPLAT! were saw alighting from their bus from is still there today.

Ad blocker interference detected!
Wikia is a free-to-use site that makes money from advertising. We have a modified experience for viewers using ad blockers

Wikia is not accessible if you've made further modifications. Remove the custom ad blocker rule(s) and the page will load as expected.