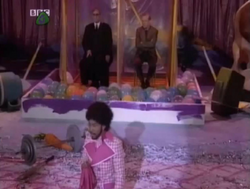 The Eddy Hair show is a television programme presented by
Eddy Hair
favoured by members of
SPLAT
, especially by
Harvey Hunter
. Near the end of the show, there is a school quiz called Eddy Hair's Great School Quiz. 2 schools compete against each other with 3 selected pupils in a team. They answer 10 questions each and the losing teams Headmaster gets covered in red gunge. Other characters that appear in The
Eddy Hair Show is a man standing beside a Panda costume, there is also 2 assistants of Eddy, both women, one named Susie ( who was in the panda costume).
Part of
The Headmaster
's Master Plan was to hypnotise everybody in the country via The Eddy Hair Show as it was a very popular show, watched by young and old alike. His plan failed as Dinah covered him with gunge while he was hypnotising the whole country.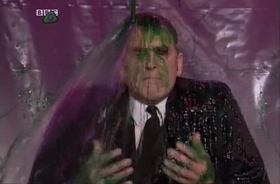 Known Participants
Edit
Manor Park School  vs  Unknown School
St Champions vs Manor Park School
Ad blocker interference detected!
Wikia is a free-to-use site that makes money from advertising. We have a modified experience for viewers using ad blockers

Wikia is not accessible if you've made further modifications. Remove the custom ad blocker rule(s) and the page will load as expected.