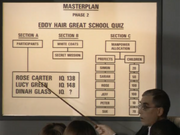 The Master Plan is
The Headmaster
's plan in
The Demon Headmaster (Book)
 and
The Demon Headmaster TV Series
 (Series 1). The Headmaster hid this Master Plan behind a timetable in his office. The only people he showed was The
School Prefects
 and his
Staff
. The first part was
Dinah Hunter
,
Lucy Green
 and
Rose Carter
 competing against Manapark School in
The Eddy Hair Show
. When they won, The Headmaster would hypnotise the whole country into him being their leader. The School Prefects would be second-in-command and allocated a number of children and were given a work force ie
Simon (Prefect)
 would be in charge of Transport and
Sarah
 would have been in charge of Work Camps.
Rose = 100 Children
Jeff = 100 Children
Sarah = 50 Children
Simon = 20 Children
Sue = 70 Children
Peter = 10 Children
Ad blocker interference detected!
Wikia is a free-to-use site that makes money from advertising. We have a modified experience for viewers using ad blockers

Wikia is not accessible if you've made further modifications. Remove the custom ad blocker rule(s) and the page will load as expected.